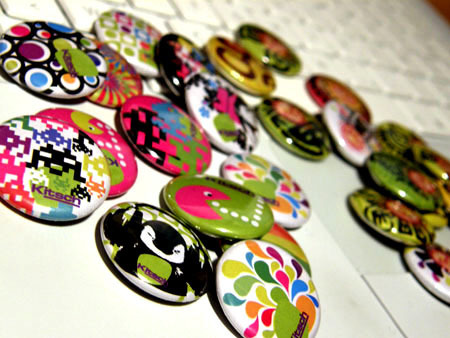 Following up on previous post I'd like to consider the diplomas vs badge scheme that I kind of sense is shaping up of late. Look it up, Google "Diplomas vs Badges" and you'll find numerous articles and posts about this question.
Pour faire suite au précédent billet, je voudrais considérer le schéma diplômes vs badge qui je sens est en train de se dessiner ces temps-ci. Vérifiez par vous même, Googlez "diplômes vs badges" et vous trouverez de nombreux articles et commentaires sur cette question.
Not that I have any particular issue with this, no more than I have with e-learning replacing more conventional presential lectures. I'm just curious (and again cautious ) as to how this could happen, how it will take place, and most importantly if all necessary precautions will have been taken so as to offer to most a fair chance in that transition.
Non pas que j'ai un problème particulier avec cela, pas plus que j'en ai avec l'e-learning remplaçant des cours plus classique, en présentiel. Je suis juste curieux (et encore prudent) quant à la façon dont cela pourrait se produire, la façon dont cela aurait lieu, et surtout si toutes les précautions nécessaires auront été prises afin d'offrir à la plupart une chance équitable dans cette transition.
My personal impression is that education as is has sort of reached its limits. In particular in this country, it has more than ever before become very elitist, social ladder is blocked as the percentage of pupils from lower class extractions in attending most prestigious schools lower than ever before. Should technological solutions offer a chance to a broader range of the population I'd say let's have it. But it wouldn't make any sense adopting technological solutions for lectures without going all the way to what, until now, has represented a sanctioning visa: a diploma.
Mon impression personnelle est que l'éducation telle qu'elle est a en quelque sorte atteint ses limites. En particulier dans ce pays, elle est plus que jamais devenue très élitiste, l'échelle sociale est bloquée avec un pourcentage d'élèves issus des classes les plus modestes de la population présents dans les écoles les plus prestigieuses plus bas que jamais auparavant. Si des solutions technologiques offrent une chance à un plus large éventail de la population, je dirais qu'il en soit ainsi. Mais ça n'aurait pas de sens d'adopter des solutions technologiques pour des cours, sans aller jusqu'au bout de ce qui, jusqu'à présent, a représenté son visa: le diplôme.
Truth be told I've never been found of Foursquare's badges. Even if I see qualities in geolocation (something I waited to no avail for Foursquare to implement) or gamification, the way Foursquare was/is using it is just … immature.
A vrai dire je n'ai jamais été friand des badges de Foursquare. Même si je vois des qualités à la géolocalisation (d'une façon que j'ai attendu en vain que Foursquare mette en œuvre) ou à la 'gamification', la façon dont Foursquare était / est l'utilise, est simplement … immature.
I'm only posing here the problem of replacing, if this should ever happen, diplomas with badges. I only hope it won't resemble becoming the mayor of anywhere. I just don't care for that kind of silliness.
Je ne fais que poser ici le problème du remplacement, si cela devait jamais se produire, des diplômes avec des badges. J'espère seulement que cela ne consistera pas à devenir le maire de je ne sais d'où. Je n'ai à rien faire de ce genre de bêtise.